Obituary for George Manoulian
George Manoulian passed away on September 28, 2021 at the age of 79.

Beloved husband of Sandra.

Loving father of Jeffrey and the late Marc (Kearsten).

Cherished grandfather of Kathryn and Jackson.

Dear brother of Sophia, John II, Betty, Alex, David and the late Michael.

George will also be missed by his many nieces, nephews, cousins and friends.

Visitation Sunday 4:00 p.m. to 7:00 p.m. with a 6:30 p.m. Prayer Service at St. Sarkis Armenian Apostolic Church 19300 Ford Road, Dearborn.

In state Monday 10:00 a.m. until the 11:00 a.m. Funeral Service.

In lieu of flower memorial donations are to St. Sarkis Armenian Apostolic Church or American Cancer Society.



I cherish the memories I have with my father and know he is smiling down on all of us. Thank you all for coming out today to celebrate the memory of my dad.

Born May 5th, 1942, in Detroit to John and Lucy Manoulian. As a very young boy he helped work on his uncle Arsen Kalorian's farm. Once working with his father at the age of 12, doing daily chores while his uncle and his family took a rare vacation to New York. He often talked about the apples they'd pick and eat while taking breaks from the long days. Working in the field before there was machinery using horses to pull the plow.

To the untrained eye my father could be taken as a big grumpy man and sometimes he was. But to those who knew him he had a soft spot for the people he loved and cared about and would do anything for them. He loved his grandkids Kathryn and Jackson. He told me stories about Kathryn pulling him down to the park to play. Then when it was time to go, she would hide in the playground equipment that was too small for him to get at her and she would laugh like crazy. He loved and was loved by all his nieces and nephews with his good-natured kidding and quirky sense of humor. Dad had a strong sense of family and where the Manoulian family came from. He spoke often about the trip he and his sister Sophia took to Pennsylvania to find their grandfather. Not a lot is known other than he came from Armenia and ended up in Pittsburgh. Through tireless research they found their grandfather, Antranik, buried in a civil war cemetery in Braddock, PA. I believe that dad's strong sense of family comes from his father, John, being a genocide survivor. Not a whole lot was said but there is always the "what if" that comes if his father hadn't survived or chose another path to America. Being a first generation Armenian and not too far removed from what his father endured.

He was always willing to take the time to help with anything from a small project to helping rebuild a friend's car engine. Often going the extra mile and giving engine parts that he amassed and kept in his pole barn garage.
Dad loved his family, and was loved in turn by his two sisters, Betty and Sophia, and brothers, John Jr., Alex, Dave and Mike; his friends and their families; his grandchildren Kathryn and Jackson. Over the years, after graduating from Roosevelt High School in Dearborn Heights, MI, he kept in touch with many of his classmates. One of his favorite past-times was taking a daily walk at Greenfield Village. The trains were especially fascinating, and he became friends with the engineers who cared for and drove the trains for demos. If you were interested in anything mechanical, you immediately had a friend in my dad.
My dad always had time for my brother Marc and me. Going out of his way to give us the best opportunity at success. Even going as far as sending us to private school to find better academics and competition. He wanted us to participate in sports, but school was always first. He often bragged about my brother Marc receiving his Masters Degree in Finance as well as rebuilding National Steel's accounting systems.

Whether it was my brothers football games, or my baseball and basketball games dad was always there. He never missed a game often traveling many miles to attend. He always wanted to be involved. Once driving the basketball team all the way to Sault St Marie for a basketball tournament.
Marc and I loved having him there as well as our teammates. I recall my college baseball teammates being excited when we pulled into the ballpark parking lot and saw dad's homemade RV because he always brought food. You never went hungry with my dad around. The love for being involved carried over to his grandson Jackson. Often traveling to attend his football and baseball games, sometimes out of state. Later as his health deteriorated, and he could not attend he would watch online to see how Jackson was doing. If that wasn't available, then I would give him play by play over the phone when Jackson was pitching or up to bat.

My father touched others outside his family as well. There are many but the group he talked most about were the coffee shop friends he'd made over the years. He truly enjoyed the discussions and debates they would have over a cup of coffee to start another day. My father never shied away from a debate, he was on the high school debate team, he often sought them out. I reached to members of the group and all of them said they'd miss his upbeat and sense of humor as well as his company and friendship.

These are only a few of the thousands of memories that I have of my father. There are far too many to be encapsulated into a eulogy. His memory will be discussed by our family and friends for many years to come. He was larger than life to me and he will be missed dearly.

To send flowers or plant a tree in memory of George Manoulian, visit the Tribute Store.
Previous Events
Visitation
St. Sarkis Armenian Apostolic Church
19300 Ford Road
Dearborn, MI 48128
Prayer Service at 6:30 p.m.
Visitation
St. Sarkis Armenian Apostolic Church
19300 Ford Road
Dearborn, MI 48128
Service
St. Sarkis Armenian Apostolic Church
19300 Ford Road
Dearborn, MI 48128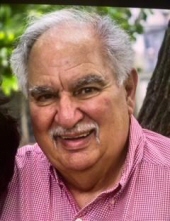 Thank you for sharing your
memory of George
Provide comfort for the family by sending flowers or planting a tree in memory of George Manoulian.
No thanks, please don't show me this again.