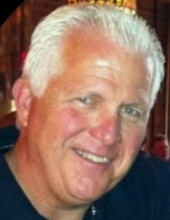 Obituary for Timothy Andrew Brewer
Beloved husband of Lori.

Loving father of Arianna and Evan.

Dear son of William (the late Phyllis) Brewer and will also be missed by his sister and brother.

In February of 2017, Tim was diagnosed with acute myeloid leukemia. He did not let this disease keep himself down while in the hospital or at home as he continued to work in his profession as civil engineer.

He served in the US Navy from 1976 - 1980, serving in Puerto Rico as a Radioman, on the night shift, while playing in a Semi-pro baseball league as a Pitcher. Tim was honorably discharged after serving on the USS Savannah, stationed at Norfolk, VA.

Tim was a graduate of Bowling Green University with a degree in Civil Engineering.

Tim was a dedicated individual, spiritual and honest. He will be deeply missed by his family and friends.

Interment at Great Lakes National Cemetery on Tuesday, September 5, 2017 at 1:00 p.m. with Navy Military Honors.

There will be a memorial luncheon at 2:00 p.m. at DaEdoardo, 8185 Holly Road, Grand Blanc, MI.

Memorials suggested to Leukemia and Lymphoma Society.

Tim's family requests no flowers.